Nuestra jugadora Carla Suárez se ha proclamado campeona del Torneo WTA de Doha Premier, disputado la semana del 22 al 27 de febrero de 2016, al vencer a la jugadora letona, Jelena Ostapenko por 16 64 64.
Una victoria peleada pues Carla cedió el primer set por un contundente 16 con un juego de la joven jugadora fulminante. Pero la tenacidad, experiencia y paciencia de Carla le hizo recuperar el segundo set y el tercero y definitivo que la llevó a alzarse el título y con ello se posiciona en el número 6 del ranking WTA mundial, mejor ranking de su carrera hasta la fecha.
Carla remontó un set en contra para alzarse con el segundo torneo de su carrera, tras ganar en mayo de 2014 a la rusa Svetlana Kuznetsova en la final del Open de Portugal.
Felicidades por este inicio de temporada que no podría haber comenzado mejor.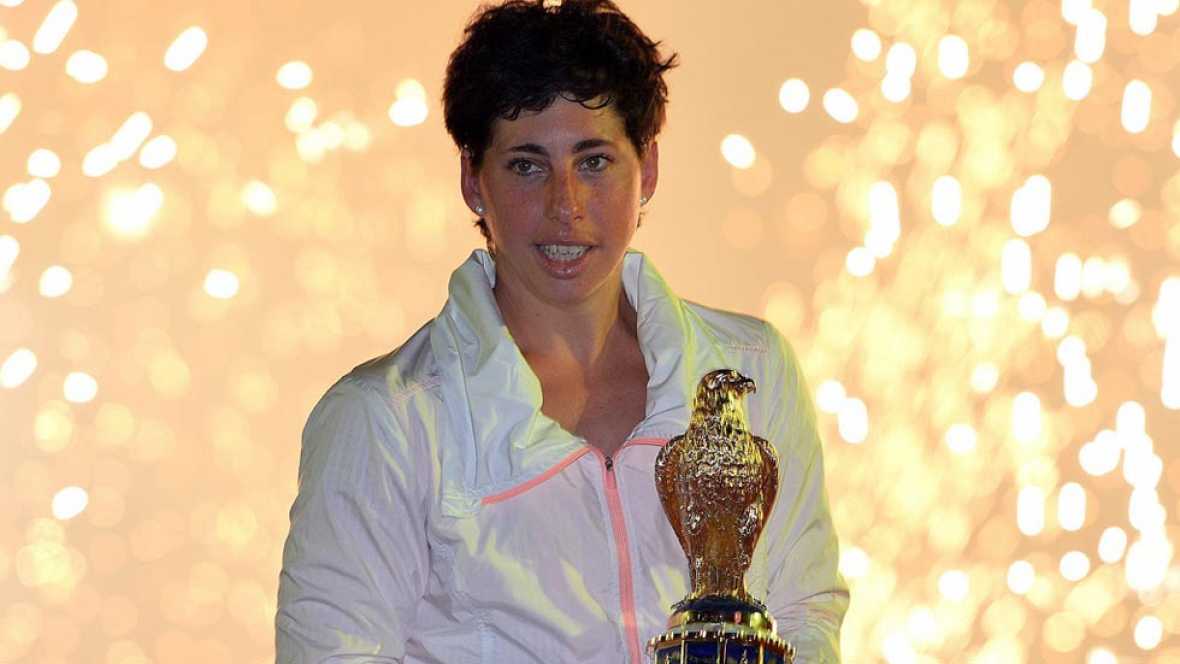 Our player Carla Suarez has proclaimed champion Doha WTA Premier tournament, played  from 22 to 27 February 2016 , beating the Latvian player , Jelena Ostapenko by 16 64 64 .
A hard-fought win for Carla gave the first set by a convincing 16 with a game of withering young player. But the tenacity , experience and patience Carla made ​​her recover the second set and the third and final that led her to lift the title and thus is positioned at number 6 in the world ranking WTA highest ranking of his career to date .
Carla rallied from a set down to win the second tournament of his career after winning in May 2014 to Svetlana Kuznetsova in the final of the Open de Portugal.
Congratulations on this early season that could not have started better.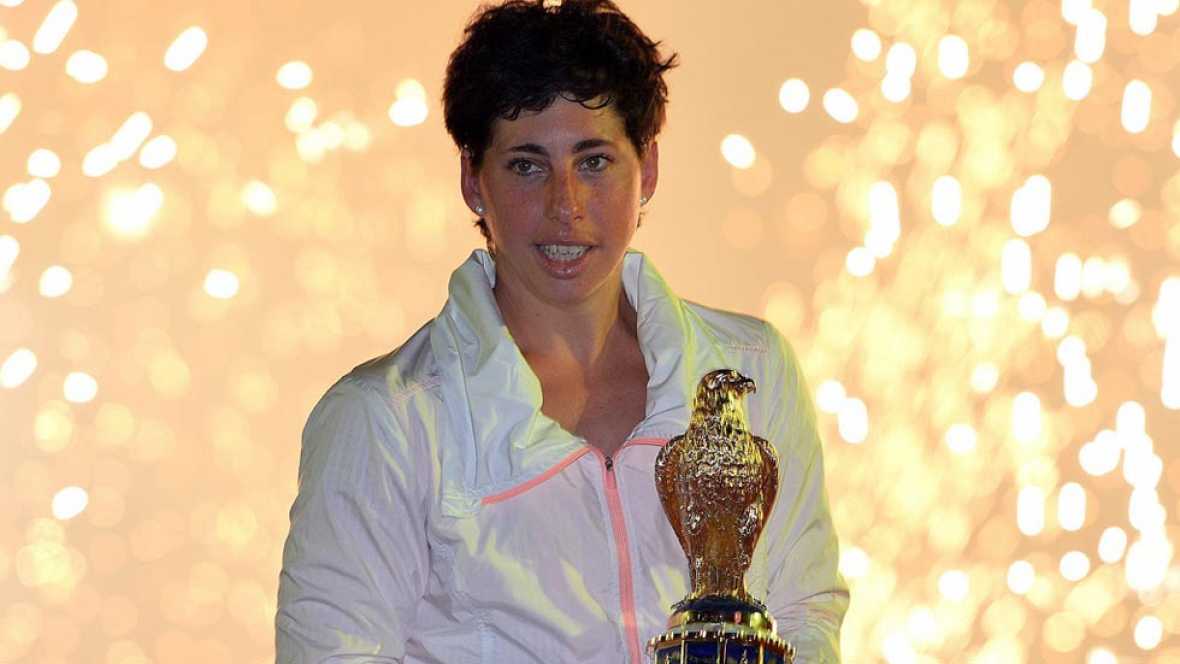 La nostra jugadora Carla Suárez s'ha proclamat campiona del Torneig WTA de Doha Premier, disputat la setmana del 22 al 27 de febrer de 2016, en vèncer a la jugadora letona, Jelena Ostapenko per 16 64 64 .
Una victòria barallada doncs Carla va cedir el primer set per un contundent 16 amb un joc de la jove jugadora fulminant. Però la tenacitat , experiència i paciència de Carla li va fer recuperar el segon set i el tercer i definitiu que la va portar a alçar-se el títol i amb això es posiciona al número 6 del rànquing WTA mundial, millor rànquing de la seva carrera fins a la data .
Carla va remuntar un set en contra per alçar-se amb el segon torneig de la seva carrera, després de guanyar al maig de 2014 a la russa Svetlana Kuznetsova a la final de l'Open de Portugal.
Felicitats per aquest inici de temporada que no podria haver començat millor .