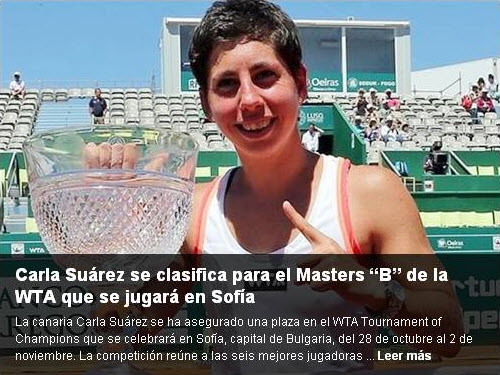 Nuestra jugadora Carla Suárez se ha asegurado una plaza en el WTA Tournament of Champions que se celebrará en Sofía, capital de Bulgaria, del 28 de octubre al 2 de noviembre. La competición reúne a las seis mejores jugadoras del año ganadoras de al menos un torneo que no disputen el Masters WTA una semana antes en Singapur, más dos jugadoras invitadas por la organización.
Carla Suárez, actual número 19 del ranking mundial, llegará a la cita tras conquistar esta temporada su primer título WTA en Oeiras (Portugal). Ha sido también semifinalista en Florianópolis y Katowice, y cuartofinalista por segunda vez en su carrera en un Grand Slam, en Roland Garros. Una temporada en la que ha logrado victorias sobre dos top-10 mundiales como la rusa Maria Sharapova en Montréal y la alemana Angelique Kerber en Stuttgart.
Carla disputará también el Masters de Dobles en Singapur la semana anterior junto a Garbiñe Muguruza, con quien ha empezado a jugar este año, conquistando un título en Stanford y siendo finalista en Madrid y Tokyo, además de semifinalista en Roland Garros.
Fuente: rfet.es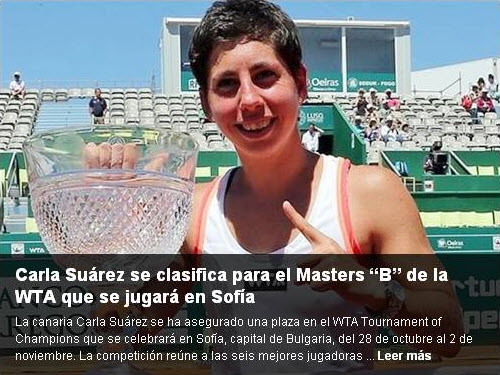 Our player Carla Suarez has secured a place in the WTA Tournament of Champions to be held in Sofia, capital of Bulgaria, next October 28th to November 2nd. The competition featured the top six players in the year winning at least one tournament, not contesting the WTA Masters in Singapore a week before, plus two players invited by the organization.
Carla Suarez, currently number 19 in the world ranking, come to the meeting this season after winning her first WTA title in Oeiras (Portugal). He was also a semifinalist in Florianópolis and Katowice, and quarterfinalist for the second time in his career in the Grand Slam at Roland Garros. A season that has achieved victories over two top-10 global , russian Maria Sharapova in Montréal and german Angelique Kerber in Stuttgart.
Carla will also play the Doubles Masters in Singapore the previous week with Garbiñe Muguruza, who has started to play with this year, winning a title at Stanford and they were finalist in Madrid and Tokyo, plus semifinalist at Roland Garros.
Source: rfet.es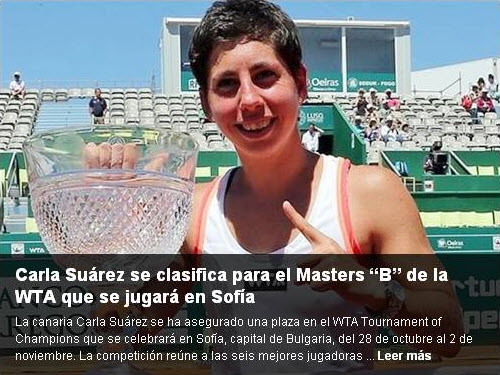 La nostra jugadora Carla Suárez s'ha assegurat una plaça en el WTA Tournament of Champions que es celebrarà a Sofia, capital de Bulgària, del 28 d'octubre al 2 de novembre. La competició reuneix a les sis millors jugadores de l'any guanyadores d'almenys un torneig, que no disputin el Masters WTA una setmana abans a Singapur, més dues jugadores convidades per l'organització.
Carla Suárez, actual número 19 del rànquing mundial, arribarà a la cita després de conquerir aquesta temporada el seu primer títol WTA a Oeiras (Portugal). Ha estat també semifinalista a Florianópolis i Katowice, i quartfinalista per segona vegada en la seva carrera en un Grand Slam, a Roland Garros. Una temporada en què ha assolit victòries sobre dues top-10 mundials com la russa Maria Sharapova a Montréal i l'alemanya Angelique Kerber a Stuttgart.
Carla disputarà també el Masters de Dobles a Singapur la setmana anterior al costat de Garbiñe Muguruza, amb qui ha començat a jugar aquest any, conquerint un títol a Stanford i sent finalista a Madrid i Tòquio, a més de semifinalista a Roland Garros.
Font: rfet.es